Local Trout Fishing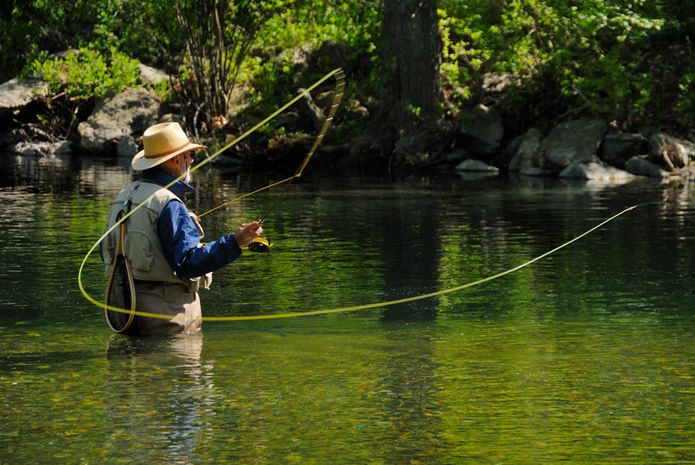 Got a yen to fly fish? Bear River Lodge features over three miles of private trout stream for your enjoyment. In addition to having a "National Heritage" Trout Stream right outside our gates. The French Broad River, just a few miles away, is a ideal place to go after small mouth bass !! Madison County, North Carolina is home to some of THE most beautiful and plentiful trout waters in America. The unprecedented beauty of the landscape, the breathtaking streams and rivers cascading through pristine national forests and dependable stocks of rainbow, brown and the brook trout set the stage for THE fly fishing experience of a lifetime. Hot Springs is in the northwestern corner of Madison County and is an epicenter for fly fishing. Within ten miles there are at least half a dozen world class fishing streams, creeks and rivers: Spring Creek, the French Broad River, Meadow Fork Creek, Hickey Fork Creek, Big Laurel Creek, and Shelton Laurel Creek
Welcome to the High Ridge Adventures
We call Western North Carolina Home. We hope you will call it relaxing, refreshing, rejuvenating, amazing, and just plain fun. Our adventures are born out of love for the creation and designed to help you disconnect from the toils and trials of life. Our staff has combined experience of more than 60 years of professional outdoor guiding and each is current or former Police, Fire, EMT, Military or Park Service. So you are in good hands.
Centrally located in Western North Carolina we are blessed to have access to hundreds of trout streams and rivers along with many great lakes and reservoirs. The climate and elevation allow for fishing experiences thought only available in the "Great White North".
Our guides have a lifetime of experience in chasing down all of our local fish species and have the ability to put our guests on some amazing water. Our trips range from fly fishing mountain freestone streams, teaching the art of Tenkara on our amazing native mountain trout streams, floating the French Broad River for small mouth and muskie, and spending time on one of our reservoirs for striper, lake trout, walleye, hybrid, monster catfish and big bream. Check us out at http://www.highridgeadventures.com.
Fly Fishing with Elk Creek Outfitters
Fishing means different things to different people. We respect the recreational anglers who just want to have a little piece of stream to themselves. We likewise respect the anglers who are possessed, like big fish, and are insatiable in their pursuits. Whatever your passion, we know you`ll like fishing with us. We are serious about fishing, and enjoy helping others with theirs. Whether you are a novice or a seasoned veteran, we are prepared to make your ECO outing the trip of your dreams. While Elk Creek is headquartered near Boone, NC they have an outpost at the Laurel River Store which is less than a mile away from us. Matt knows the local waters like the back of his hand and can also take you to a variety of other venues. Float trips, fly fishing schools,… Contact Elk River at (828) 264-6497. For more information go to www.ecoflyfishing.com